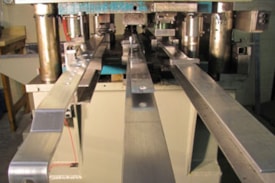 Mursix Corporation built its reputation on complex, tight tolerance stamping production over the course of decades. That reputation has fostered a trust and reliability standard with our customer base that put Mursix in a position of preferred supplier to virtually all of our customers. We still proudly own that reputation today.
Our customers look to us to develop, solve and improve their products, working hand in hand with their development and engineering teams. This reputation of competence and reliability led Mursix to add molding to our capability portfolio over twenty years ago. Taking our complex stampings to the next vertically integrated step was a natural progression, so we partnered with our customers at their request to develop our first insert molding project.
This initial project led to numerous opportunities in insert molding solutions for our stamped products. Mursix has supplied molded insert control switches for power windows, power locks and a myriad of other current carrying interfaces in the automotive industry for over two decades. Ultimately serving virtually every automotive OEM, domestic and foreign throughout that time.
From the insert molding starting point, Mursix quickly branched out to overmolding products, capturing a majority of the North American light duty truck market for steering adjust levers, as well as continued development of our busbar molding integration. We have continued to evolve per our customers needs while maintaining our reputation as one of the most reliable and competent manufacturers in the industry.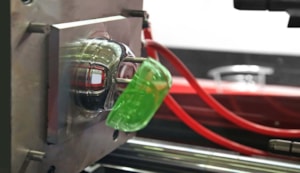 The evolution of our molding capabilities took a significant leap forward last year, with the incorporation of our first horizontal injection machine. The new Nissei FNX180, a state-of-the-art electric injection molding machine, has endowed Mursix with a new capability range. This new machine allowed us to capture our first autonomous radar mounting assembly, a complex assembly taking advantage of our stamping capability.
Today, Mursix is very excited to be the primary supplier of the mounting assembly for the new Ford F-150, Ford Raptor as well as the new Ford Bronco. These marquis platforms will all rely on Mursix and our expert molding capability, and we continue to see more and more opportunities on the horizon. In fact, we're adding a new FNX360 molding machine to our portfolio to help us keep on top of all our new projects This new machine will expand even further on our tonnage and capacity, allowing us to serve our customers and their diverse, ever-expanding needs.
Mursix can help you with molding, stamping, and many other capabilities no matter if you're in the alternative energy industry, an automotive company in need of semi-truck handles to aspirators, or in the medical industry and looking for medical device components like stethoscope parts, medical research tools, or device packaging.