Since April 2020, the Indiana Defense Network (IDN) has been hosting Indiana's first Technical Interchange Meeting (TIM), which seeks to teach industry about the defense organization's core mission, research and development plans and strategies.
The Indiana TIM is in conjunction with OEMs, small and medium sized manufacturers and several academic institutions. This TIM's focus is Digital Thread for Supply Chain with an emphasis on Subtractive Manufacturing under a model-based enterprise.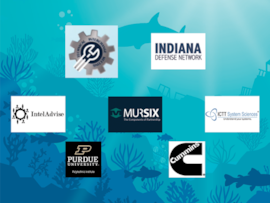 The culminating event of the exercise was a Shark Tank-like competition on July 28, 2020. Mursix and their partners are proud to have presented one of the four different pilot projects which see to solve very difficult technical challenges faced by the DoD supply chain. Mursix partnered with Cummins, ICTT System Sciences, Inteladvise, and Purdue Polytechnic.
"It was fun, and we were honored to be amongst a distinguished panel of 'Sharks.'", says Susan Carlock Murray, Partner & VP of Business Development of Mursix.
Related Links:
Video & More About the 2020 Shark-Tank Event
Apply to Participate in TIM 2021
About Indiana Defense Network (IDN)
The Indiana Defense Network (IDN) is a 501(c)(3) non-profit organization with the purpose of reducing the burdens of government by promoting economic development through the facilitation of the development and testing of new military and civilian products.