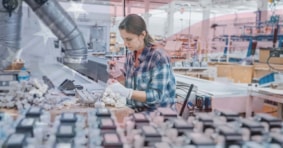 The cry to bring manufacturing jobs back to America has been increasing in intensity for decades. It hit a crescendo when the COVID-19 pandemic swept into the U.S., highlighting the need to bring production of a wide range of products--especially medical supplies--back home to U.S.-based manufacturing centers. On June 22, the Pentagon signed an MOA (memorandum of agreement) with the U.S. International Development Finance Corp (DFC) that authorizes the DFC to issue loans to companies who will "create, expand, or restore domestic industrial capabilities" in response to the current pandemic.
Shortages of Critical Supplies
Over the past decades, the U.S. has come to rely increasingly on international manufacturers for a myriad of supplies--even critical supplies. The coronavirus pandemic very quickly highlighted the country's shortage of critically needed medical equipment and personal protective equipment (PPE). These materials have been instrumental for saving lives and reducing the risk for virus contagion. As cities and, indeed, nations vyed to purchase supplies from a small pool of manufacturers, it was clear that we, as a nation, need to produce critical supplies like these medical resources within our own borders.
Stepping Up to Produce
Mursix has recently expanded its services and design solutions to meet some of the medical needs created by this pandemic. For instance, Mursix is an industry differentiator and quickly shifted its production gears to design and build medically viable face shields right from its Midwestern location. The company has also pivoted to produce a wide array of components needed by the medical field, including components for ventilators and hospital beds.
The new MOA will help other companies follow in Mursix's footsteps. The time to invest in a localized supply chain is now--or the critical shortages we've just experienced will not likely be the last. Mursix helps other manufacturers retool, prototype, and design. We also project manage, helping clients develop new processes and production strategies to improve efficiency and manufacturing capabilities. In this era of pandemic, many companies will be asked to step forward to shift gears and help out during this crisis. Mursix is proud to be among those first companies doing its part to help save lives.
How can Mursix Help You?