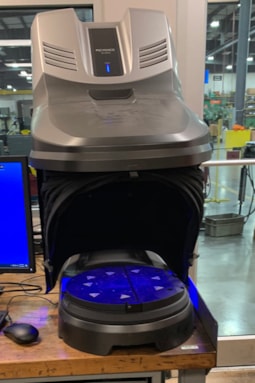 Mursix is pleased to announce a new addition to our services and capabilities--a 3D scanner that's ideal for prototyping and ensuring product quality. Our new 3D scanner, a Keyence VL-350 model, has the ability to reverse engineer old parts or tooling that no longer include 3D models or tooling drawings to guide engineers in their construction. Because the Keyence VL-350 can assist with quality control at any stage of a manufacturing project, we're delighted to offer this type of capability to our clients.
Always looking to expand our services and capabilities, we are also able to reduce quality tech time requirements with the use of our new 3D scanner. We can use our 3D scanner to measure parts, provide heat mapping, and quickly scan parts or tools for help in the engineering process. We find our 3D scanner essential for inspecting a die or production part and for developing new parts that don't have gaging or CMM programs created.
We've found that the best components to scan are solid parts without deep crevices or holes. Components that have complex geometries do not reflect light optimally, so the scans appear with voids in the object. Additionally, some types of metals do not scan; however, we have some capabilities to render items more scan-friendly.
If you need rapid prototyping, you can rely on Mursix and our new 3D scanner for efficient and accurate service. We're pleased to invest in technology that supports our manufacturing customers' needs.
Contact Us
Susan Murray Carlock, VP of Business Development
765-282-2221 ext. 216
[email protected]
Mark Wamsley, Inside Sales Manager
765-282-2221 Ext. 231
[email protected]